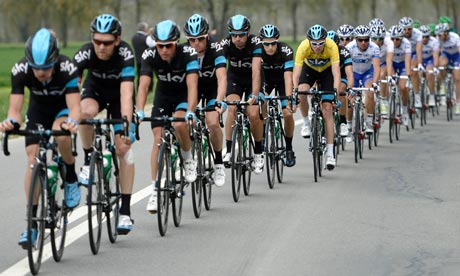 Sunday night saw Chris Froome ride home along the Champs-Élysées, arms around his fellow teammates, as the curtain fell on what was a remarkable 100th Tour de France. The race had it all; the failure of a two time winner, the rise of a Columbian wonder climber, a new Champs-Élysées champion and the second British Tour de France victor in two years.
Remarkable is an understatement considering Sky have only been around since the start of the 2010 cycling season. Ask any team principle and they will tell you that it is extremely tough to start a team from scratch and to expect to see results in grand tours so soon after. At the Team Sky launch David Brailsford outlined his main goal; to create the first British winner of the Tour de France, within five years. What once looked like an ambitious target now seems rather conservative. Sky have won 2 tours in its first four years and are the favourites to take next year's edition.
But in order to win what would be an historic 3rd tour de France victory, Sky have got to sort out some differences within their camp. The first lies with what to do with Bradley Wiggins. Hero a year ago, Wiggins has fallen down the Sky pecking order in recent months. Brailsford has insisted that he feels Wiggins and Froome can work together again in next year's tour but it seems improbable. Wiggins reached the pinnacle of his career in 2012 and he is unlikely to be able to have the humility to work for Froome, the better climber, in a tour. Doubtless Sky will play it down, perhaps as an injury of some sorts, but it's hard to believe that a team can go into a tour with two contrasting personalities who have had fractious moments in the past.
"People talk about having team unity and team harmony. In my experience, I don't buy that at all. Most of the best teams I've been with, they're not harmonious environments."
Brailsford seems to stand by his judgement that as long as Sky have one goal, Wiggins and Froome can work together.
"What you do need is goal harmony. And there's a big difference between the two. You can have the best friends, the closest knit group, but if they're not 100 per cent aligned behind the goal, it's not going to work."
It seems puzzling to see how a team without unity could possibly be 100 per cent aligned behind the same goal. Does that mean that Sky couldn't win with both Froome and Wiggins in the same team? No, but it would surely be controversial with the media analysing every statement the one says about the other.
I think that the most likely scenario is for Sky and Brailsford to try to guide Wiggins to target the Classics. Wiggins has shown his versatility in the past and his grit and determination would surely stand him steadfast in the harsh one day races. That would mean Wiggins would have to alter his whole training and peak earlier on in the season, significantly affecting his riding potential in June/July. In 2012 Wiggins' whole year was geared towards the Tour de France; that wouldn't be an option any longer. Sky would then have the leeway with Wiggins, especially if he does well in the classics, to send him to the Giro as a duel leader with Richie Porte or to draft him in to the Tour team as a pure domestique and time triallist.
The other area of controversy within Sky is what to do with Rigoberto Uran. The Columbian is a phenomenal climber but with Froome, Porte, Wiggins and Henao in the Sky team, Uran may not be given the full support needed to propel him to a grand tour win. His contract terminates at the end of the season and his agent Giuseppe Acquadro feels it is time for him to move on. Speaking to L'Equipe during the Giro he said, "Unlike [Sergio] Henao, who is in the same situation, Urán won't be staying with Sky because he wants to ride the Tour next year as a team leader, and Sky already have Froome, Wiggins and Porte, so there are too many ambitious riders and not enough space to accommodate them."
According to L'Équipe, Urán's most likely destination is Omega Pharma-QuickStep. The Belgian team has plenty of top-class riders, but lacks an outstanding contender for the grand tours.
Richie Porte failed to finish within the top ten of this year's Tour de Franc, predominately due to one bad day on stage 9. The rest of the tour, Porte showed his class as Froome's loyal lieutenant and was consistently strong in the mountains and produced two good time trial performances. It seems inevitable that Porte will be given the leadership for next year's Giro. The Australian will then ride the Tour for Froome again and continue what is a formidable partnership.
The other Columbian in the team, Sergio Heneo is primed to be Sky's future GC man. Having already put in strong performances in the past two Giro d'Italia's and last year's Vuelta, Henao may have to wait his chance before he is given grand tour leader status. Nevertheless, Sky will be keen to keep hold of him especially after producing strong Classics performances and finishing 2nd in this year's La Flèche Wallonne.
Thomas was the inspiration in this year's tour victory after riding the majority of the race with a broken pelvis. Next year should see the Welshman excel in the Spring Classics. Despite a disappointing 2013 Classics, Sky will be eager to learn from their mistakes and Geraint Thomas will be at the helm of the 2014 charge on the one area of the calendar they have yet to stamp their mark on.