Who will it be?
Well Chris Froome
has done everything right so far including eliminating Sir Bradley and now he has sole leadership of Richie Porte. The Sky team seems more vulnerable this year than last year in my opinion. Froome has managed to out do Wiggins by not only winning close to
everything he has ridden this year but also winning with relative style and panache, he seems to be riding within his limits and only time and Ventoux will tell just how strong he really is and whether he can be beaten.
Alberto Contador has had a sobering year by his standards. He has been out ridden by Froome every time they have matched up,
but the only one which really matters is the Tour and if he is the one who comes into Paris in yellow then everything before it will become redundant. It will also prove his place as one of the greatest Grand Tour riders ever.
Joaquim Rodriguez has been surprisingly awful at the Dauphine, but if there was ever a man to surprise at this Tour it will be him, just it wouldn't be much of a surprise.
He has improved steadily and twice last year came close to winning a GT. He has proven he can climb with the best and his ITT is better than what it used to be. He is up against two phenomenally talented riders but you never know with Purito.
Nairo Quintana is an immense talent who proved last year at the Vuelta that he can climb with the very best and he showed in the Basque country that he can time trial as well.
He lacks pedigree in a Grand Tour for sure and he also has Alejandro Valverde to contend with. Then again if Quintana manages to prove himself in the first week or so then Valverde may be of invaluable support. I don't know what Movistar have done sending him off to train in Colombia but they better know what they are doing otherwise my Cq team will be lost permanently.
Valverde has had a relatively low key build up to the Tour, but his 2nd at the Vuelta last year showed he is still very competitive in Grand Tours. He will want to assert his dominance over Quintana early
and then hope he doesn't lose to much time in the Time trial. I don't see anyway of him winning, but a podium is not out of the question.
I had already packed Cadel Evans off and was waiting to send him to the glue factory before the Giro, but he proved me wrong. I am a great believer in Tejay Van Garederen but if anyone deserves their chance at the Tour it is Evans after he went ahead and with minimal preparation posted a good showing off himself at the Giro
albeit he was lucky that the weather got the better of the race and that the race finished when it did as he seemed to be waning in the final week.
I really believe Ryder Hesjedal can do well in this Tour. I don't know what happened in the Giro and I really wanted him to do well but if it means he excels in the Tour then so be it. He will have to post a decent showing in the TDS, but I do think he has all the right attributes to
battle it out with the best and I wouldn't be surprised to see him on the podium in Paris, or see him leave the race in the first week.
Jurgen Van Den Broek is a good climber and he showed that at least in last year's Tour. Can he win? Certainly not. Can he podium? Probably not, his Time trial is not awful but it is not enough to make time on most other contenders so he will have to rely on
his climbing to aid him. His Dauphine performance wasn't encouraging and his performance in general this year has been pretty dour. Greipel will surely overshadow him as the Lotto leader unless he pulls something special out of the bag.
Pierre Rolland has ridden nicely this year winning the Circuit de la Sarthe but without being brilliant. His whole season is geared towards the Tour and this is his year to finally break out and prove he has what it takes.
My dark horse for the Tour. A lot of people don't agree, but this kid has got class.
Thibaut Pinot is very talented and was up there with the best at last year's Tour. I wouldn't be surprised if he is up there with challenging for a podium this time.
Richie Porte
will be supporting Froome, but he has shown this year just how good he really is.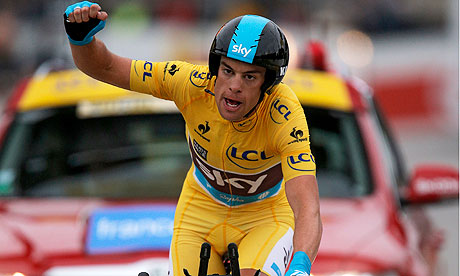 What can I say? We will not know about Andy Schleck until Stage 8 most likely but meh..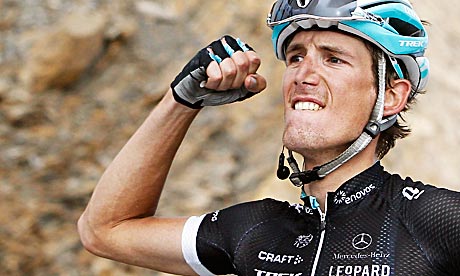 Andrew Talansky is only 1 star I could think of. He showed at the Vuelta that he can climb and he can sure Time Trial. Though I omitted his team mate Dan Martin the pair of them could surprise at this year's
Tour.