Sunday, 25 August 2013
In the past I have written about Chris Froome and his development throughout his career. What is integral is the glaring gap between his arrival at Sky in 2010 and his startling ascension at the 2011 Vuelta. Between those two points in time, Froome went through a grey patch of results as he struggled to compete in the World Tour. His performances were so dismal that Sky were considering releasing him at the end of the year and indeed the managing director of Garmin – Jonathan Vaughters – has said that he was in the process of recruiting Froome prior to the Vuelta.
Read more »
You might also like:
Wednesday, 24 July 2013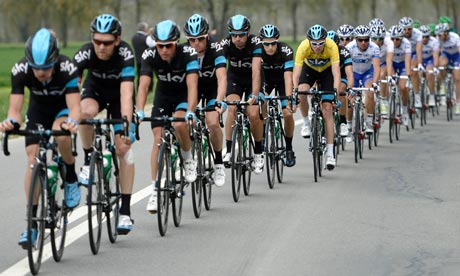 Sunday night saw Chris Froome ride home along the Champs-Élysées, arms around his fellow teammates, as the curtain fell on what was a remarkable 100thTour de France. The race had it all; the failure of a two time winner, the rise of a Columbian wonder climber, a new Champs-Élysées champion and the second British Tour de France victor in two years.
Read more »
You might also like:
Tuesday, 23 July 2013
This is a controversial topic and one which I am sure will produce a range of opinions. Following last year's revelations relating to Lance Armstrong, I've seen many bloggers and tweeters who do not want to believe in Froome only to have their hopes and beliefs in the sport dashed once again.
Read more »
You might also like:
Sunday, 20 January 2013
If you want to talk Sky and doping then this man is the one who you need to talk about..
He is either an amazing coach and an absolute genius... or a very dirty cheat..
He was the coach who Wiggins and the rest of the winning Tour team attributed for their incredible perfomances at the Tour.
So I will fill people in with some info on him..:
Kerrison was, as is infamously known, an Australian swimming coach until 2008 when he left and was contacted by the English cricket team, Brailsford managed to whisk him away at the last second.
Read more »
You might also like:
Sunday, 20 January 2013
Even subsequent to clearing up the matter of why Sky were capable of performing to such high levels there is still the dilemma of Chris Froome. His rise to the top was not only unprecedented, but in fact it was completely out of the blue and many people would say that there was not even so much as the slightest indication of his talent prior to the 2011 Vuelta.
Logically this would be a clear and very blatant sign as to possible doping; the simple explanation for the ridiculous leap would be due to doping. It was the factor which gave him the ability to perform beyond what he was previously capable of and it has been the cause of his ascension to one of the most highly rated Grand Tour riders who are currently racing in the modern peloton.